Spicer Manor Delighted to Introduce Coach House
In addition to the already incredible offering at Spicer Manor, we're delighted to announce that the Coach House is well on its way to fruition. Expected to be complete at the end of Spring, this stunning addition aims to provide beautiful surroundings to seat up to 116 guests, or 160 for a social setting in the evening or daytime.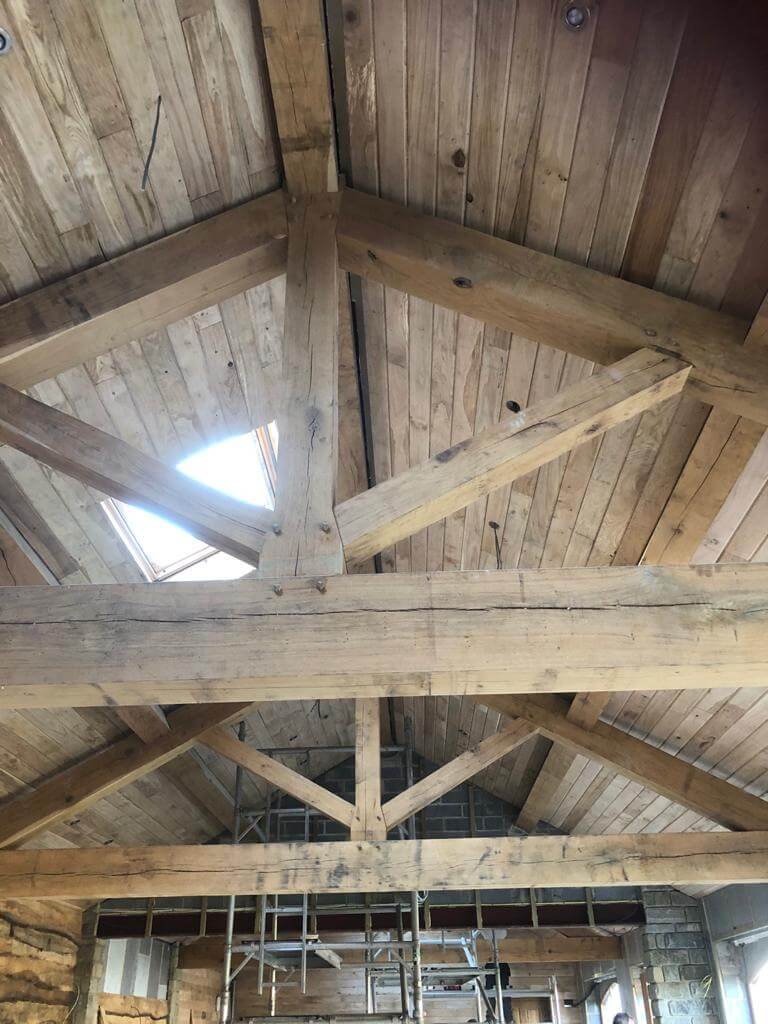 This versatile, stylish space combines the modern farmhouse style of the main house, whilst offering a facility for a larger group to celebrate and socialise against the backdrop of the breath-taking Yorkshire countryside.
Using the same care and attention to detail as was used in designing the main house, the Coach House will boast excellent facilities, including underfloor heating, rustic wooden wall panels, and stunning lighting.
The coach house compliments Spicer Manor beautifully, a large holiday home and events venue sleeps up to 34 guests, should your event require.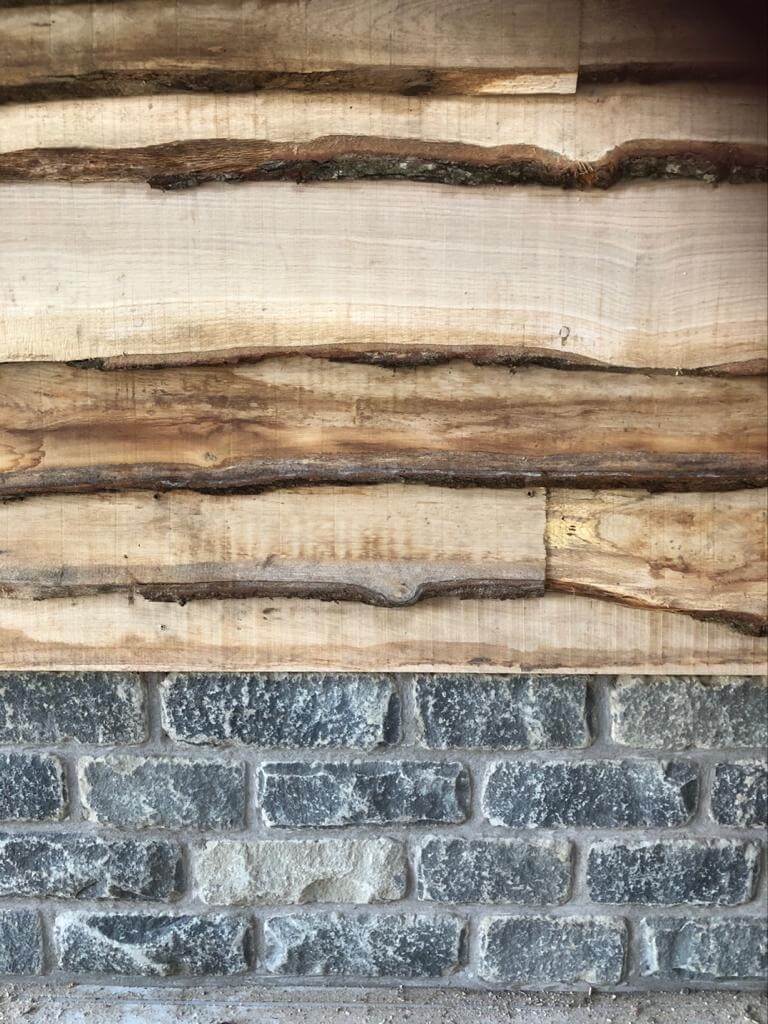 The main house is luxurious, authentic and comfortable, boasting two hot tubs, pet-friendly accommodation, a state-of-the-art cinema, games room and WIFI throughout. If guests need some much needed time out or some excitement, Spicer Manor is has plenty to do close by, from the hustle and bustle in our neighbouring cities of Sheffield, Leeds, and Manchester to the stunning outdoor scenery of the Peak District – there's something to suit all tastes.
To enquire about this unique venue for a wedding, corporate event or special occasion, please contact us today!
A corporate retreat with a difference at Spicer Manor
Corporate retreats in the countryside offer a fantastic opportunity to bond with your team in an inspiring out-of-office environment. Lisa Hunt, owner of Spicer Manor, explores the many benefits.
Enjoy relaxed and spacious facilities
Country houses are great locations for team away days or corporate retreats, offering ample space to host a jam-packed week of team building activities or a relaxing getaway. Not only will you have complete privacy in peaceful surroundings, but you'll also be able to make the most of the great outdoors.
Choose from a range of activities
Most rural venues offer team building activities on or off-site or can recommend experiences nearby. This might include cookery classes, wine tasting, cocktail-making or murder mystery parties to name a few. There may also be the opportunity to make use of large grounds for activities such as'Total Wipeout' or archery.
Delicious catering options
Many country house retreats will provide a bespoke catering service on request, allowing you to treat your employees or clients to delicious food prepared on-site. One of the many perks of dining at a countryside venue compared to a city location is the locally sourced, fresh produce available.
Get away from the hustle and bustle
Holding your corporate retreat in the countryside provides a natural setting to escape from the busy world and clear your mind of distractions, which is likely to have a positive effect on employee wellbeing. Getting together in a different environment will allow you to focus on your agenda away from the daily grind.
Luxury surroundings
Country houses often exude luxury, with beautiful interiors and often retain many period features which create a pleasant environment in which to work or spend time with colleagues. They offer something truly unique and memorable, with rooms full of charm and often with breathtaking views of the surrounding countryside. You may also find quirky meeting or break-out spaces to share ideas with colleagues.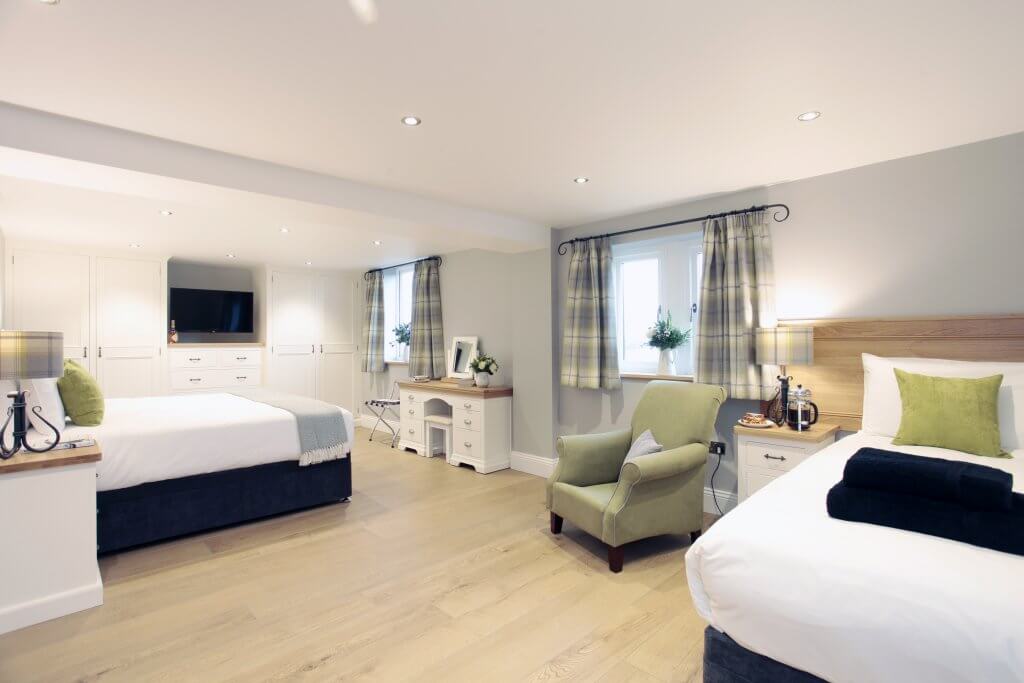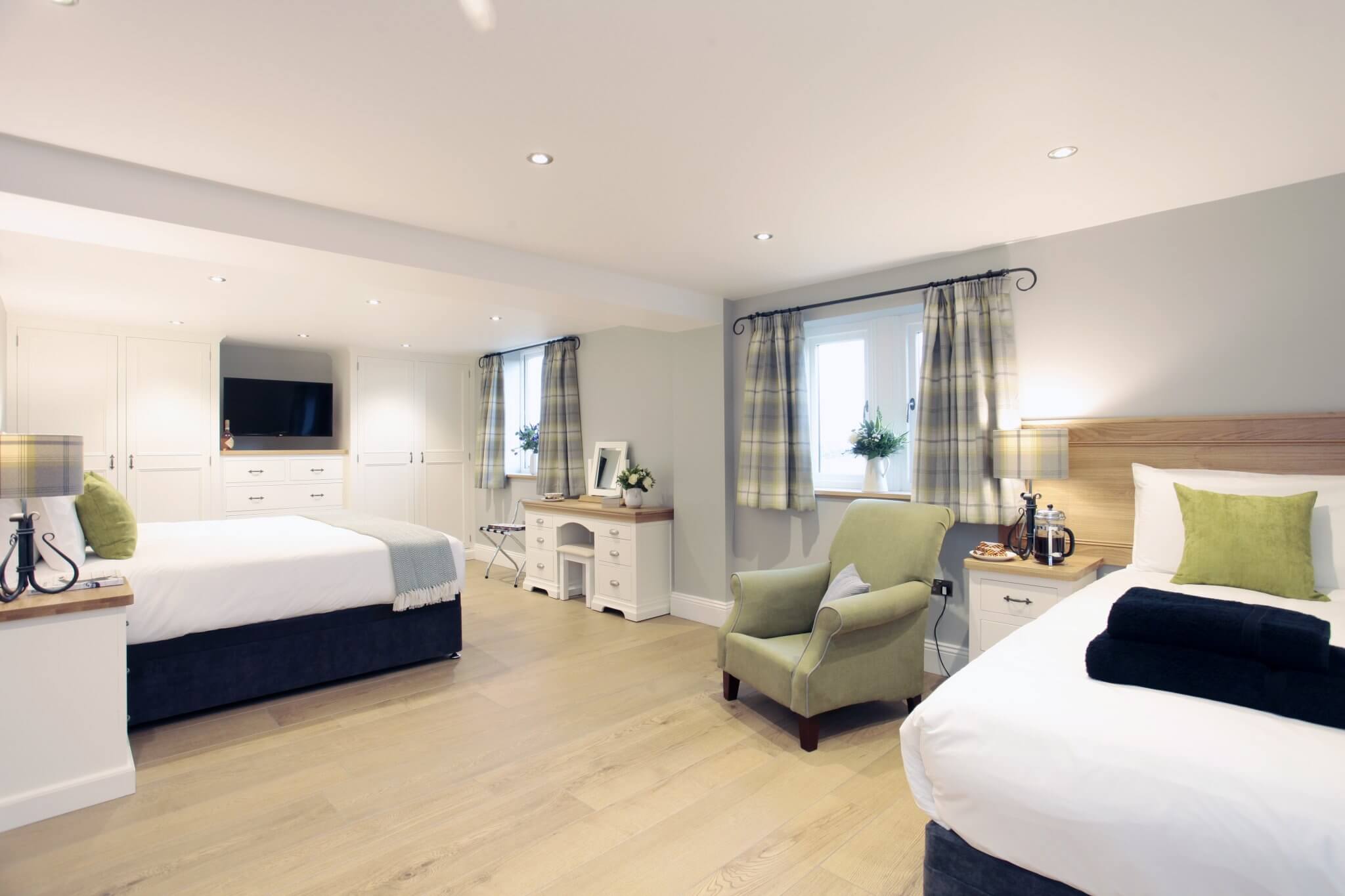 Free, secure parking
Hosting a corporate team activity in a busy city can mean employees paying a small fortune to park – often a far distance away from the venue. However, countryside venues are likely to provide free, secure on-site parking which enables attendees to have a stress-free commute.
Modern facilities
You might be out in the countryside, but you'll still be able to make use of modern facilities such as free Wi-Fi, flipcharts, projector screens and some houses even have their own cinema rooms! It's worth discussing your bespoke requirements at the point of booking to ensure you have everything you need before your event.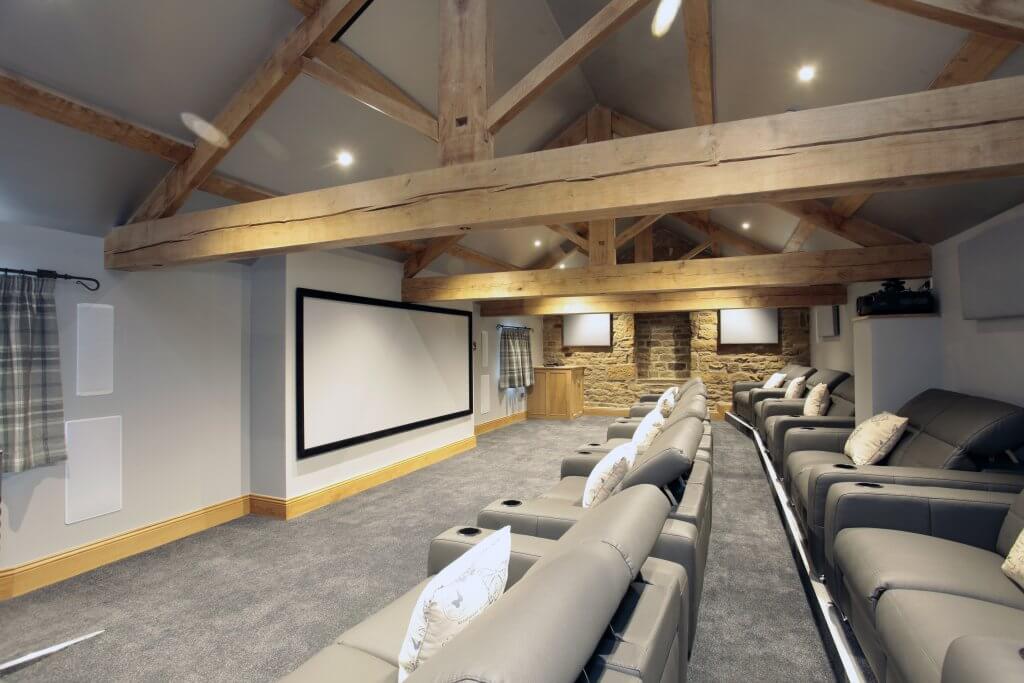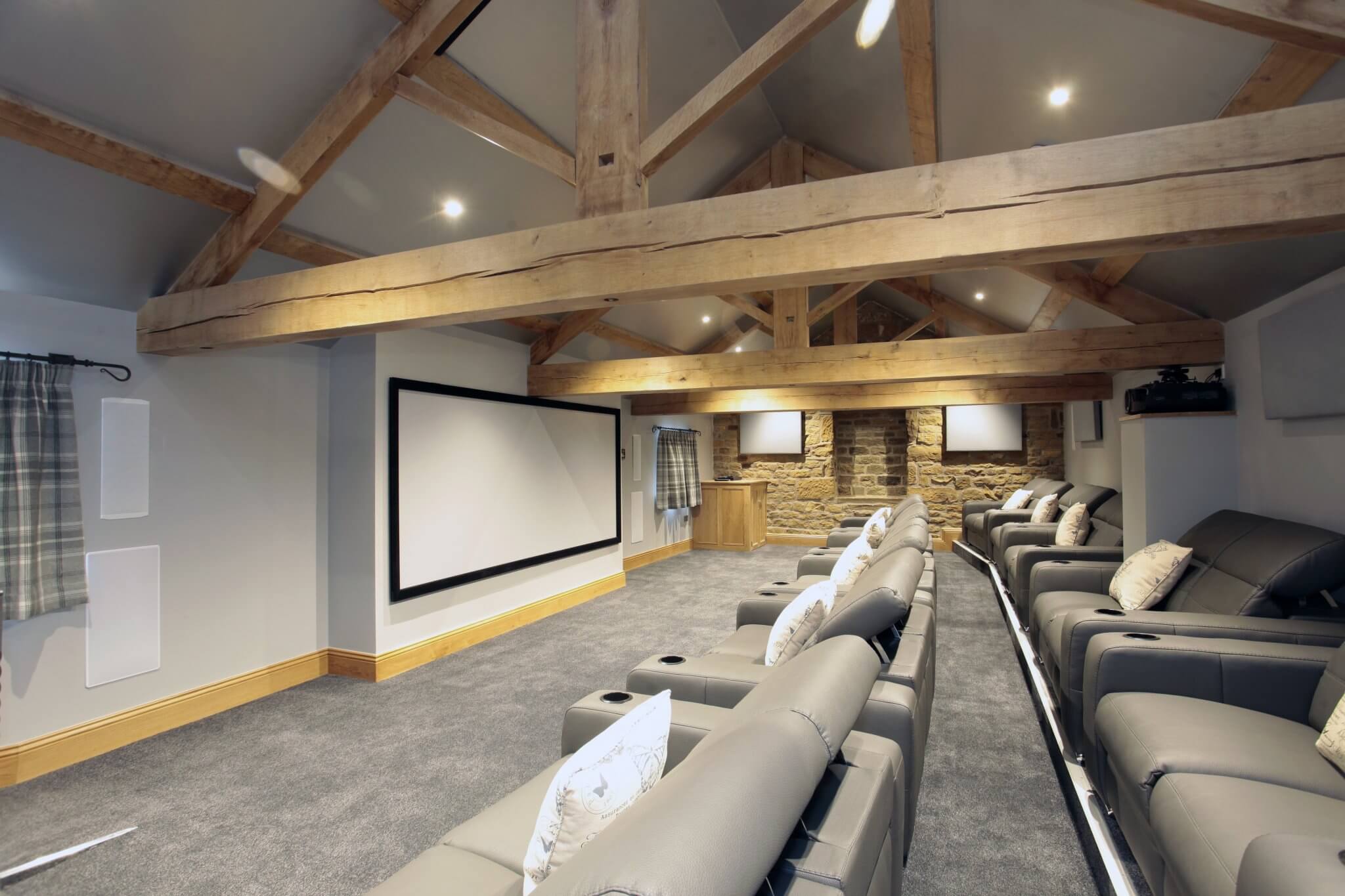 A rural retreat with a difference
Spicer Manor lies on the edge of the stunning Peak District National Park, offering a wide range of outdoor activities. The luxury country house is within easy distance of major cities including Sheffield, Leeds, York and Manchester. The house sleeps 34 guests and boasts twin hot tubs, a cinema and games room.
We have a range of indoor and outdoor spaces to choose from. Our magnificent oak orangery offers the perfect space for meetings. The house also boasts three adjoining living spaces which provide quirky breakout areas for groups to share ideas.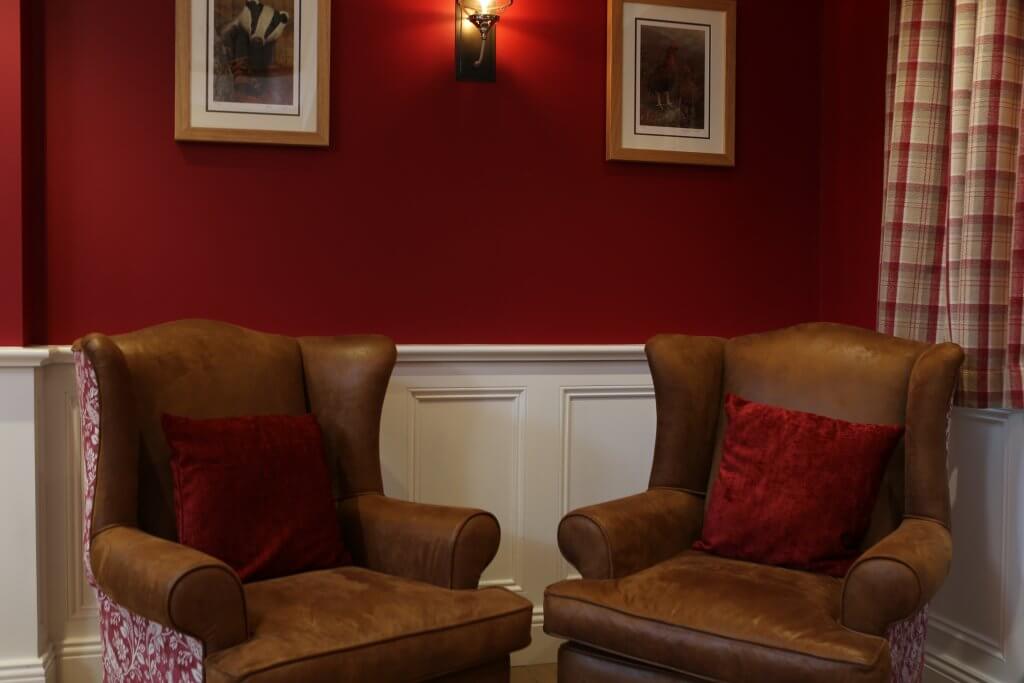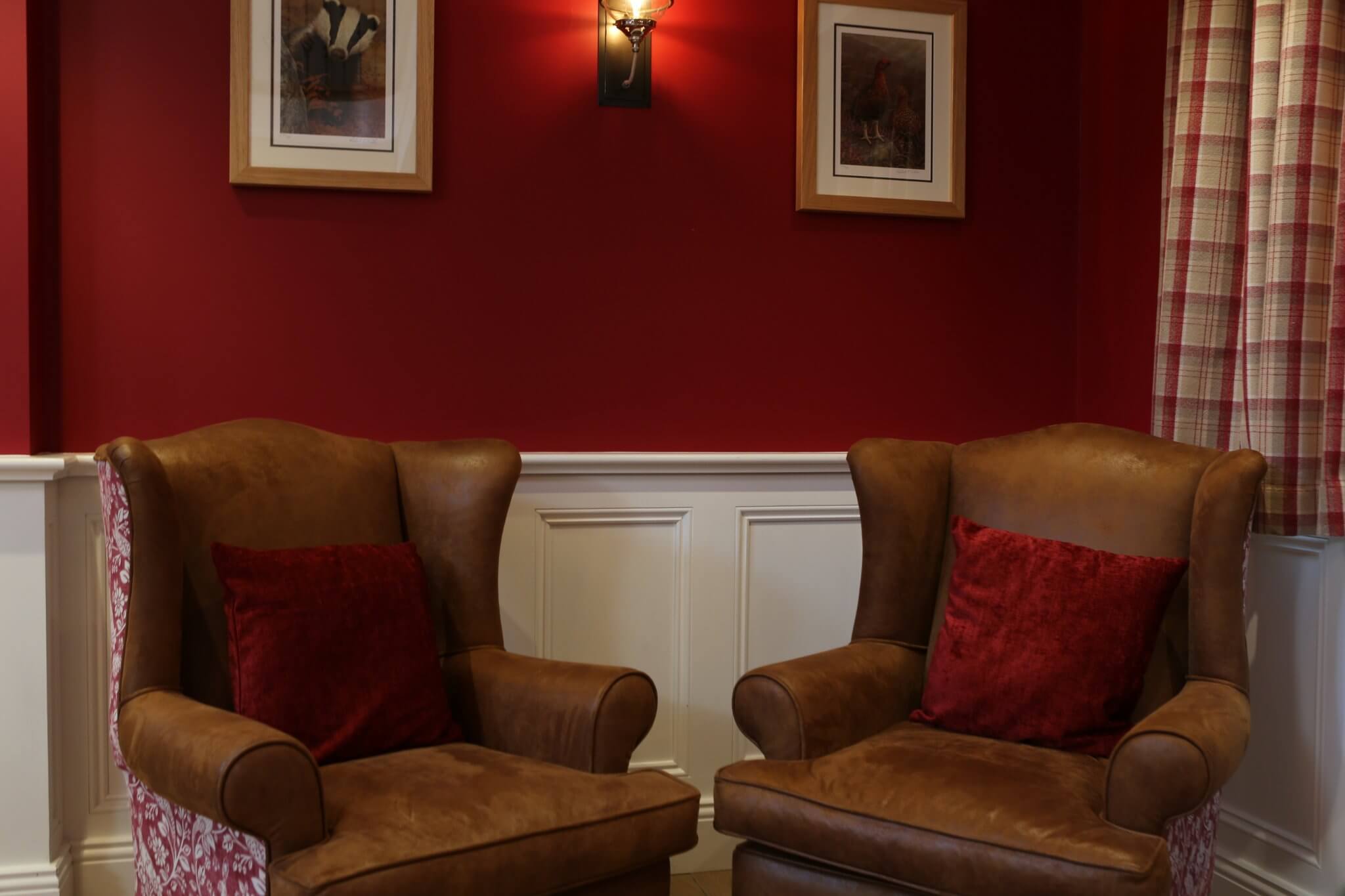 Upstairs, our cinema room provides 4K viewing quality in line with full-size cinemas and has seating for 22 delegates on specially designed cinema chairs. This room is ideal for corporate presentations or seminars.
For a more light-hearted team bonding session we have a range of outdoor games such as giant Jenga and boules which can be played on the impressive front lawn or in our fields.
Activities nearby
If you'd like to head out on an adventure during your stay with us, there are several activity centres within easy reach which offer corporate team building days in Yorkshire.
For a fun-filled team building day, look no further than Puzzlewoods, situated in Cawthorne near Barnsley which is just a short 20 minute drive away. Here, you'll pick your way through a one hour outdoor trail, facing a series of challenges along the way which will test your mental agility, physical ability and encourage you to think outside the box. There's also the opportunity to toast marshmallows around a fire.
For something a little more challenging, Dolomite Training at Bakewell in Derbyshire offers everything from abseiling and stream scrambling to orienteering and mountain biking. The staff have a wealth of management training experience which enables them to tailor the activities towards team bonding.
Whatever activities you have in mind, Spicer Manor can cater for your needs. We have shared accommodation for up to 34 single delegates. For more information or to book your corporate retreat in Yorkshire, contact hello@spicermanor.co.uk.
Meet our chef
We caught up with chef Andrew Bradley to find out about the culinary delights that guests can look forward to at Spicer Manor.
Can you tell us a bit about your background?
I trained at Bradford Catering College and went on to work at the Box Tree restaurant in Ilkley for five years where I become restaurant manager.
In November 1993 I opened Bradley's restaurant in Huddersfield which I ran for 22 years. We were in the Good Food Guide every one of those years which was a fantastic achievement for everyone involved.
During that time, I also opened a second restaurant in Bradford, while also fulfilling a wedding catering contract with the National Trust at East Riddlesden Hall.
What's your favourite thing to cook?
I love cooking fresh fish or eating it! Especially if I'm at the coast and it comes straight off a boat.
What occasions can you cater for at Spicer Manor?
I can cater for all occasions at Spicer Manor whether it's a birthday party, family gathering, corporate event or wedding.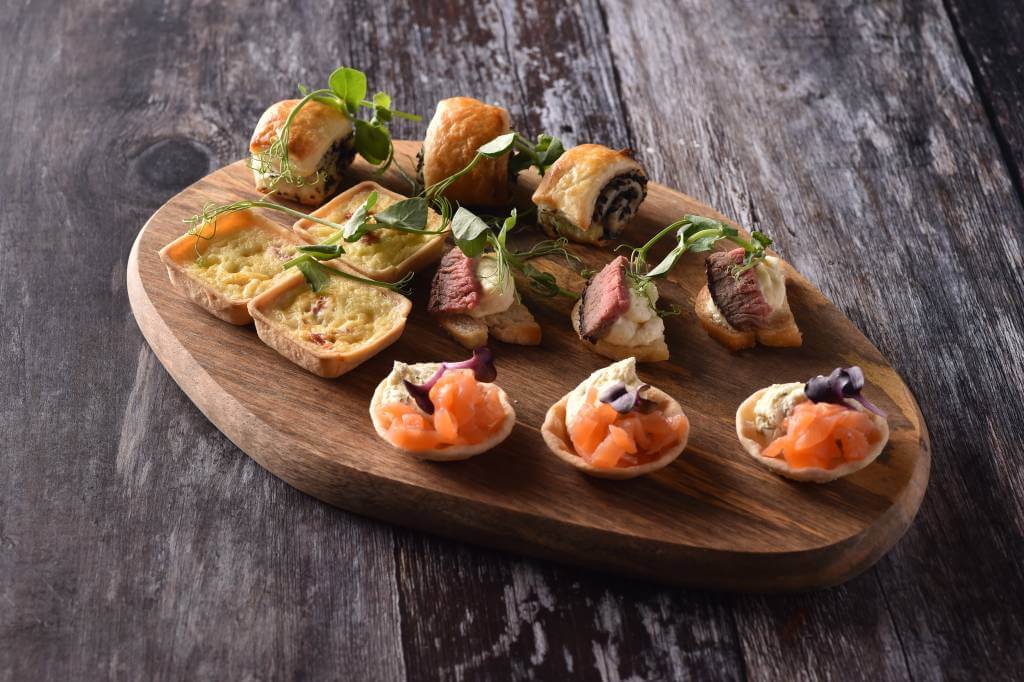 What will be on the menu?
All menus can be tailored to each individual guest, from a simple BBQ in the summer to a gourmet meal with champagne and lobster. I also cater for all dietary requirements in the process.
What's your favourite thing about Spicer Manor?
My favourite thing about Spicer Manor is firstly the space in the kitchen and the room to move around, but also the views on a clear day. You can't beat looking out over God's own county!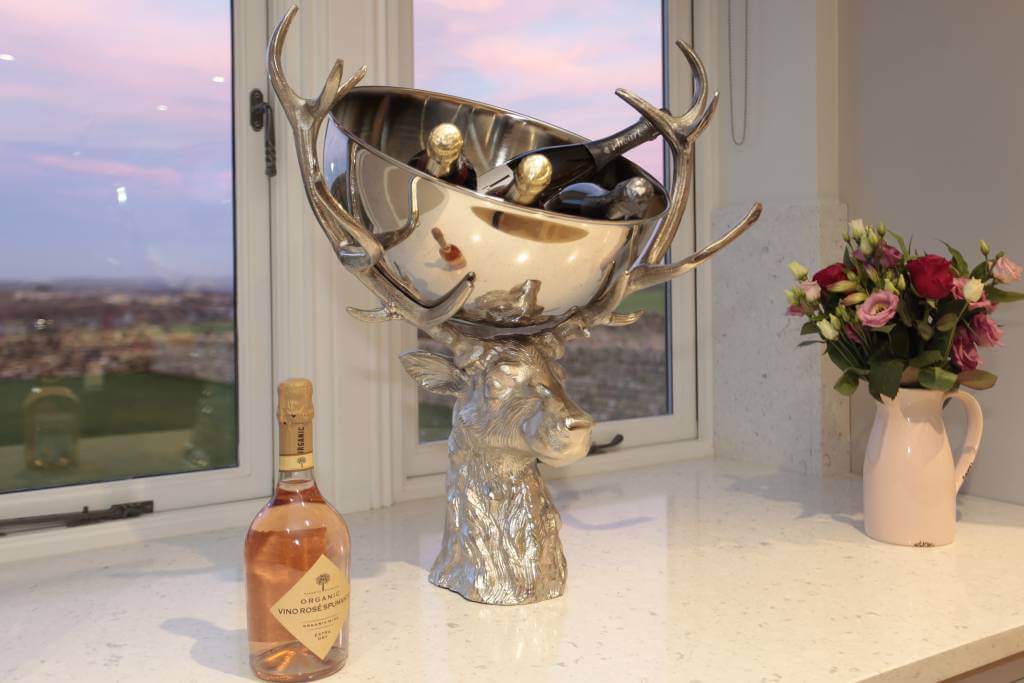 What's the one kitchen gadget you couldn't live without?
The one thing I couldn't live without in a kitchen are my knives and steel to keep them very sharp. Also, salt and pepper to bring the flavours to the foods we serve.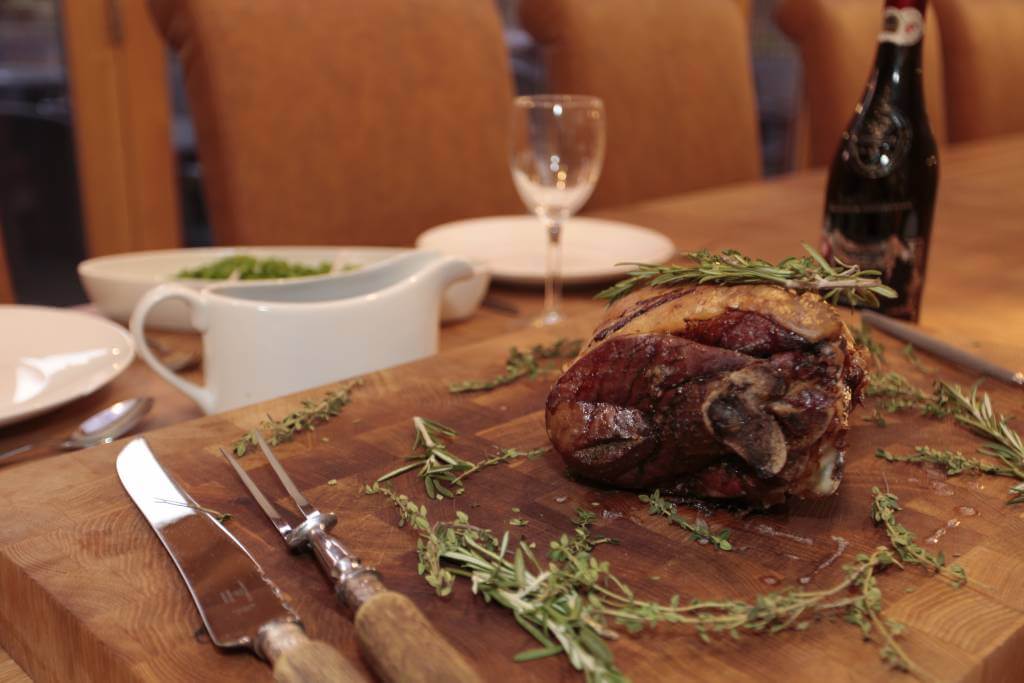 If you would like to add catering to your stay, please enquire at the point of booking or contact us at hello@spicermanor.co.uk
7 steps to planning a yoga retreat
Planning a yoga retreat can be a deeply rewarding experience, but with the responsibility for choosing and booking a venue, planning the agenda and marketing the event, there's lots to think about beyond just teaching your classes. Yoga enthusiast, Charlotte Goldthorpe, shares her five steps for planning a retreat that reflects your intentions.
Step 1: Visualise your yoga retreat
Before you start the planning process, take a few moments to contemplate the kind of experience you want to create for your students. Write down your vision for the retreat to help you stay focused. Where do you want to go? What is important to you? What kind of experience would you enjoy yourself?
Step 2: Choose your venue
It's a good idea to visit venues before booking so you can experience them for yourself. It also means you'll be able to plan the route. Consider whether the venue has space for yoga? Can the venue recommend other activities in the area? How many people does the venue accommodate for? Ultimately, you'll want to know how much it's all going to cost, so I'd advise speaking to the owner of the venue to discuss your requirements early on in the process.
Step 3: Plan your timetable
Once you've got the logistics of the retreat sorted, you can get onto the important task of planning your classes. Remember to leave time between classes for guests to spend how they wish, whether it's taking a stroll in the grounds or burying their head in a good book.
We'd also recommend offering opportunities to try out other activities to complement your retreat. For example, if you're organising a countryside retreat you could plan some horse riding, walking or cycling.
Don't forget the all-important weather! Check if you'll be able to practice outdoors and whether you can take the class indoors in case of rain. It's also worth asking whether there is air conditioning or heaters.
Step 4: Provide nourishment
You'll want your students to feel nourished during the retreat, with a range of wholesome foods on offer, as well as making sure you're able to cater for different diets. We'd recommend working with the venue to find a caterer to suit your requirements or ask if they could recommend nearby cafes and restaurants to accommodate you. Alternatively, consider venues where you can make your own food onsite. Spicer Manor has a well-equipped kitchen to cater for large groups.
Step 5: Promote your retreat
Before marketing your retreat, think about your target audience. Are you aiming it at beginners or more advanced yogis? Will there be a mix of styles? Can both men and women attend?
Once you've set out your key messages, share the news with your current students in class and via email too. They are, after all, your biggest fans and can help spread the word.
Once you've gauged the level of interest among your regulars, share the news on your social media channels. Ask the venue for pictures to help 'sell' the retreat so people can picture the type of experience on offer.
Step 6: Enjoy the retreat and get to know your participants
Each participant will have different reasons for attending your yoga retreat so try to find out more about them and what they want to get out of the sessions. Not everything will be perfect, so try not to stress too much. If you're enjoying the retreat, it's likely that the participants will be too.
Step 7: Ask for feedback and reviews
How did it all go? It's important to get feedback on your retreat to help improve your next one. You could ask the participants to fill in a simple feedback form before they leave or send out a brief online survey. Posting positive reviews on your website and social media channels will help promote your next retreats.
If you're planning a yoga retreat, Spicer Manor provides the perfect backdrop to a yoga retreat, set in the beautiful Yorkshire countryside. Your students will be able to switch off from the world around them and totally chill out.
To discuss your requirements, please contact our bookings team on 07921 138 696 or email hello@spicermanor.co.uk.
Yorkshire farmhouse transformed into luxury venue
Did you know that Spicer Manor started life as a derelict Yorkshire farmhouse?
The original Spicer House Farm was owned by farmer William Burnand who retired in the 1980s and later died in 1989, leaving the farm unoccupied for 30 years.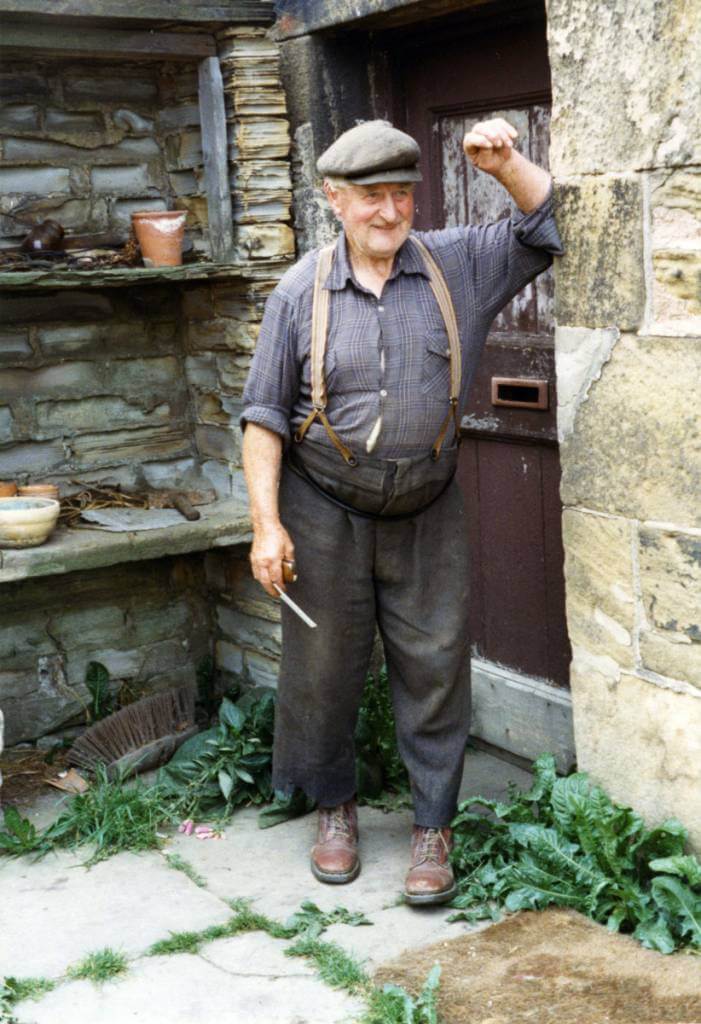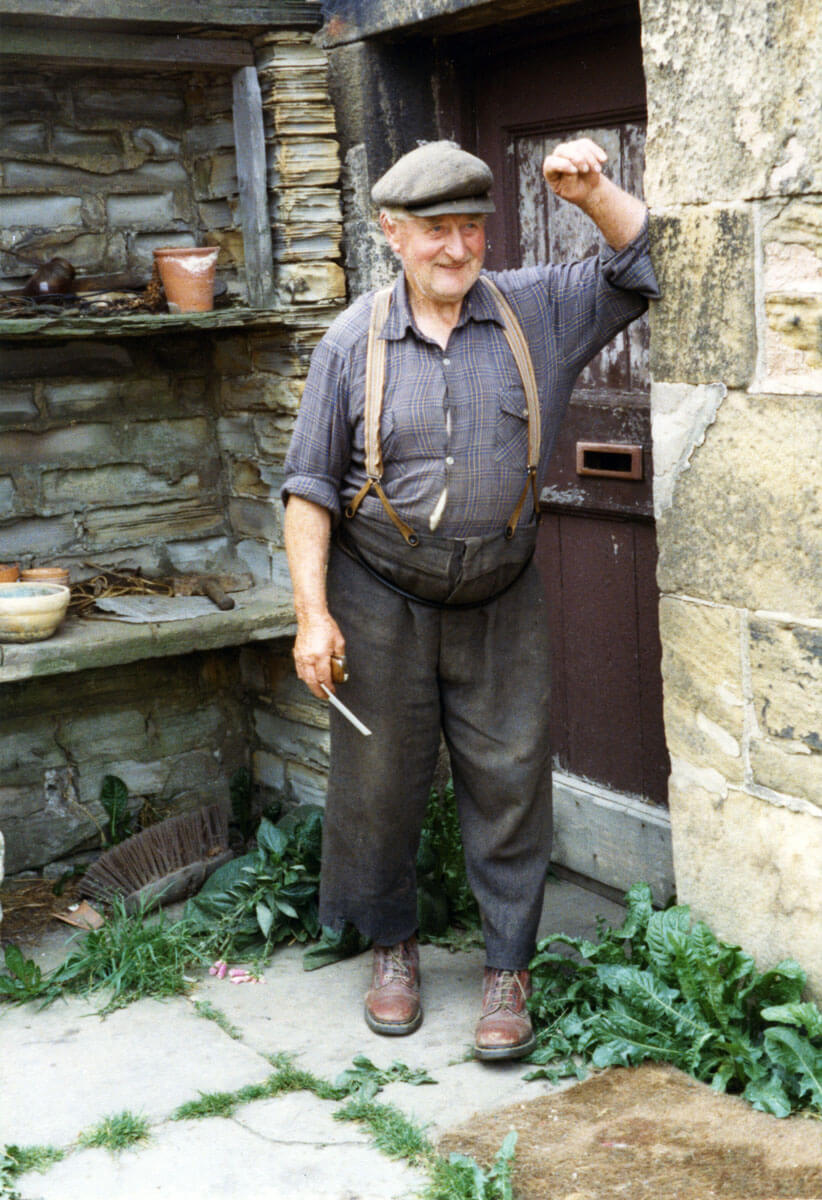 Spicer Manor has undergone a complete restoration over a ten-year period and is now available for bookings for short breaks for large groups, special occasions, weddings and corporate retreats.
With views across to Ingbirchworth reservoir, the house sleeps 34 guests in 15 modern en-suite rooms, with high-quality fittings throughout. It also boasts a state-of-the-art cinema, games room and twin hot tubs.
Owner, Lisa Hunt, said: "It was important to me throughout the project to work with local tradespeople who have helped with everything from dismantling and rebuilding the existing walls, to constructing the new roof, and providing many of the interior features in the house.
"It's been years in the making and we're thrilled to now be able to welcome guests to enjoy the venue as much as we do."
Guests can check availability via the website, with bookings taken directly by Lisa and the team.
She added: "We wanted to create a bespoke and personable service to ensure guests are looked after and have the most memorable stay."
Spicer Manor owns a full wedding licence and provides a unique setting for a wedding. The grand hall provides space for an intimate ceremony, while the oak orangery is the perfect place to host a wedding breakfast. There is a lounge bar, and a private courtyard offers space for a barbeque or buffet reception.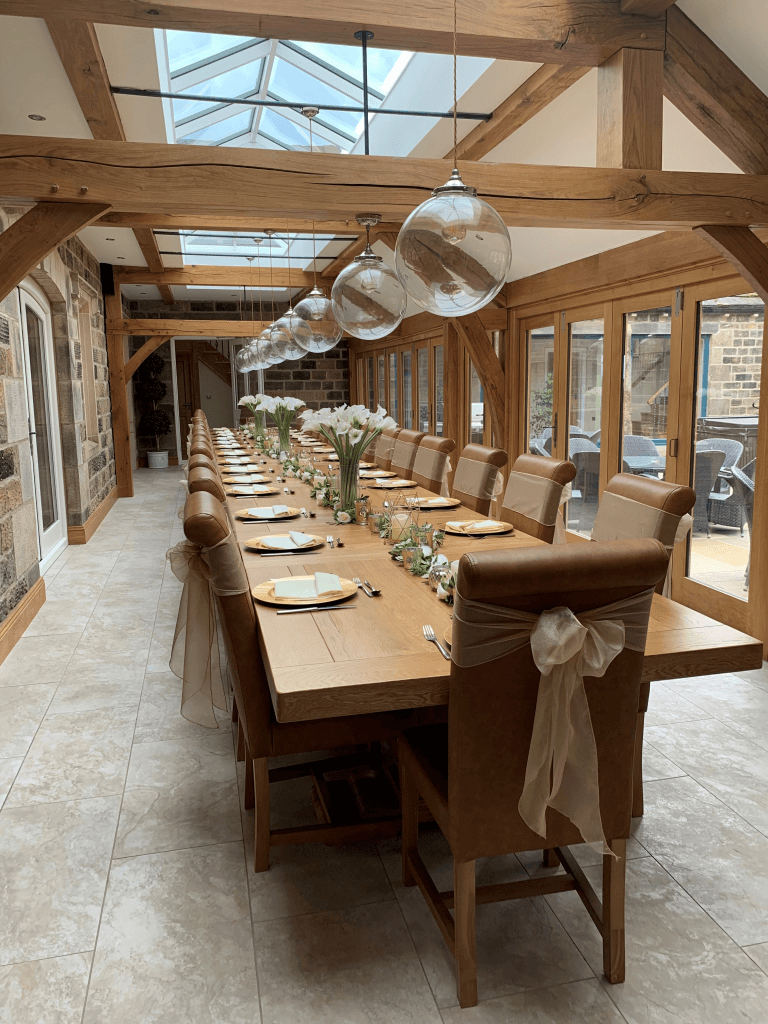 The house can also be booked mid-week for corporate retreats, offering an unusual but functional venue which is convenient for transport links, but far enough away to ensure delegates can enjoy some time away from the office in the Yorkshire countryside.
Special occasions can be enjoyed at Spicer Manor, from special birthdays and anniversaries, to hen and stag parties. The house can also be booked for short breaks with family and friends and offers dog-friendly accommodation. Outside catering can be provided at an additional cost with Huddersfield-based Bradley's Outside Catering.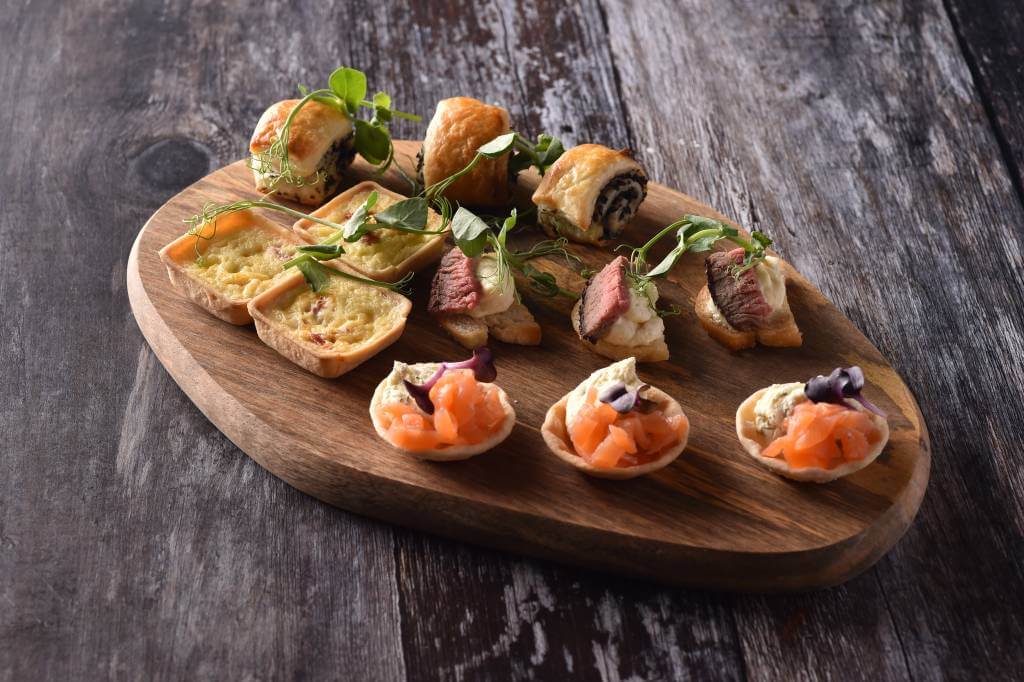 Spicer Manor is the sister business of Yorkshire Premier Cottages – a portfolio of five renovated cottages in and around Penistone and Stocksbridge. The Yorkshire Premier Cottages website and social media channels will launch in the coming months.
Why you should go horse riding during your UK break
Fresh air, exercise and the rhythmic clopping of hooves… horse riding is one of the most relaxing and rewarding activities you can take part in during a UK break.
There are some fantastic equestrian facilities in the area around Spicer Manor and whether you're an accomplished rider or a complete beginner, you can't fail to be nourished by the stunning countryside you'll pass through.
There are plenty of riding centres within easy reach of Spicer Manor, including Silkstone Equestrian Centre, which has the added benefit of a well-stocked tack shop on-site.
Worried about what to wear? Flat, sturdy shoes will keep your feet safe in the stirrups and thick trousers (such as jeans) will stop the saddle from rubbing your legs. You'll be provided with a hat, and gloves are always a good idea, for both grip and warmth – especially in the 'fresh' Yorkshire winters.
If you'd rather watch horses than ride them, and you're visiting at the right time, Spicer Manor is well-placed for some of the country's most prestigious equestrian competitions.
Less than 30 miles away in Derbyshire you'll find Chatsworth Horse Trials, which take place every year over three days in May.
Down the road in Wetherby, you'll find Bramham Horse Trials taking place in June and you can drive there in less than an hour.
Travel over to East Yorkshire for Bishop Burton Horse Trials which take place throughout the eventing season and take just one-and-a-half hours to reach by car.
Local low-level competitions can also be found much closer to home, with regular Leg Up Equestrian events just a couple of miles down the road in Millhouse Green, and Honley Show providing fun for all the family – even those who aren't keen on horses!
If you go riding during your stay at Spicer Manor, we'd love to see your photos. Tag us in on Facebook and Instagram @SpicerManor.
Giddy up!
VIP guests welcomed to preview Spicer Manor
On Tuesday 18th June we welcomed VIP guests to preview Spicer Manor at our open house event.
Journalists, bloggers and local business people were invited to look round the extensive accommodation and taste delicious food prepared by chef Andrew Bradley and his team at Huddersfield-based Bradley's Outside Catering.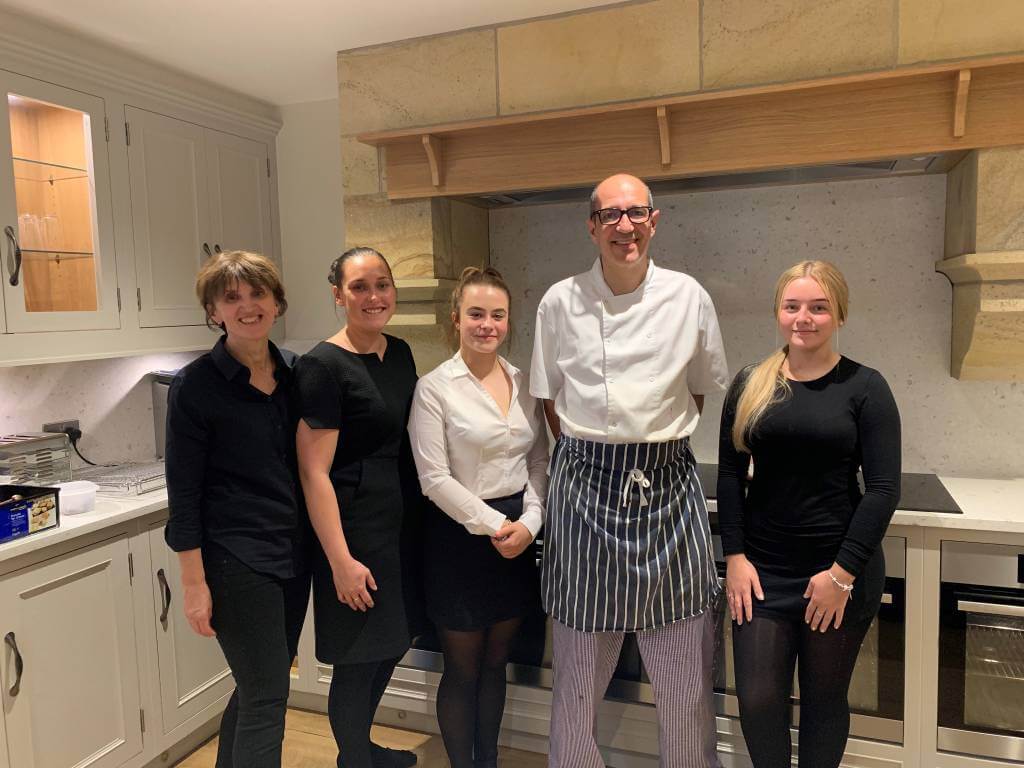 Wedding pianist James Hey delighted guests with their favourite tunes in our grand hall, while drinks were enjoyed in the lounge bar, including wines supplied by Penistone Wine Cellars.
Canapés were served on arrival, before the delicious sit-down buffet was served, providing an opportunity for guests to catch up in the orangery around the beautiful oak table. Andrew's signature trio of desserts was a particular favourite!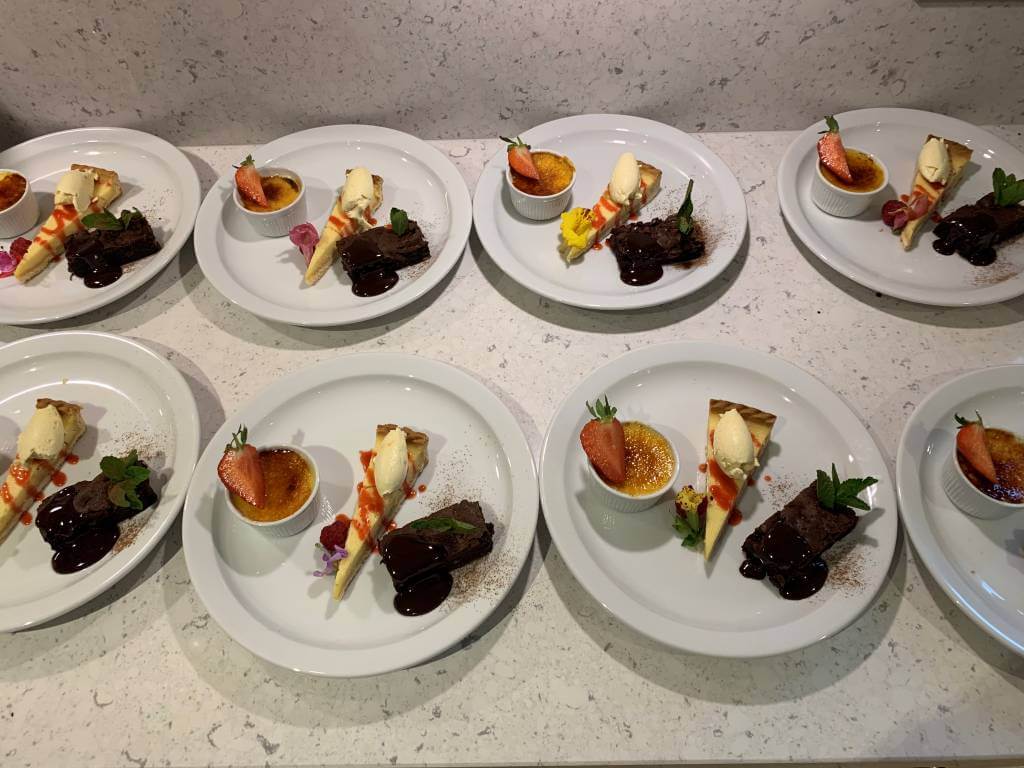 One guest said of the event: "I can honestly say that Spicer Manor really is at the top of the tree and blew us away with an amazing wow factor. Lisa and Nicholas are very approachable and extremely friendly to their guests and visitors. Spicer Manor is a remarkable and outstanding property and they should be extremely proud of what they have created."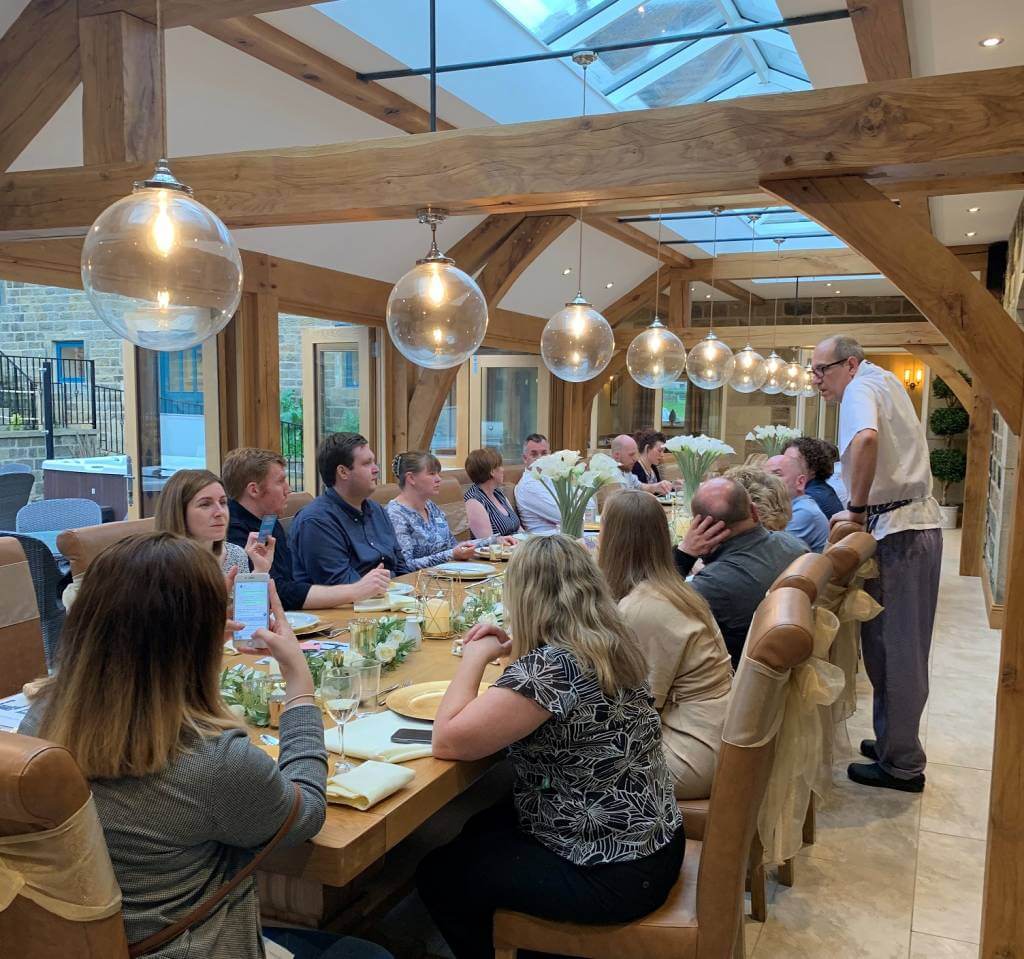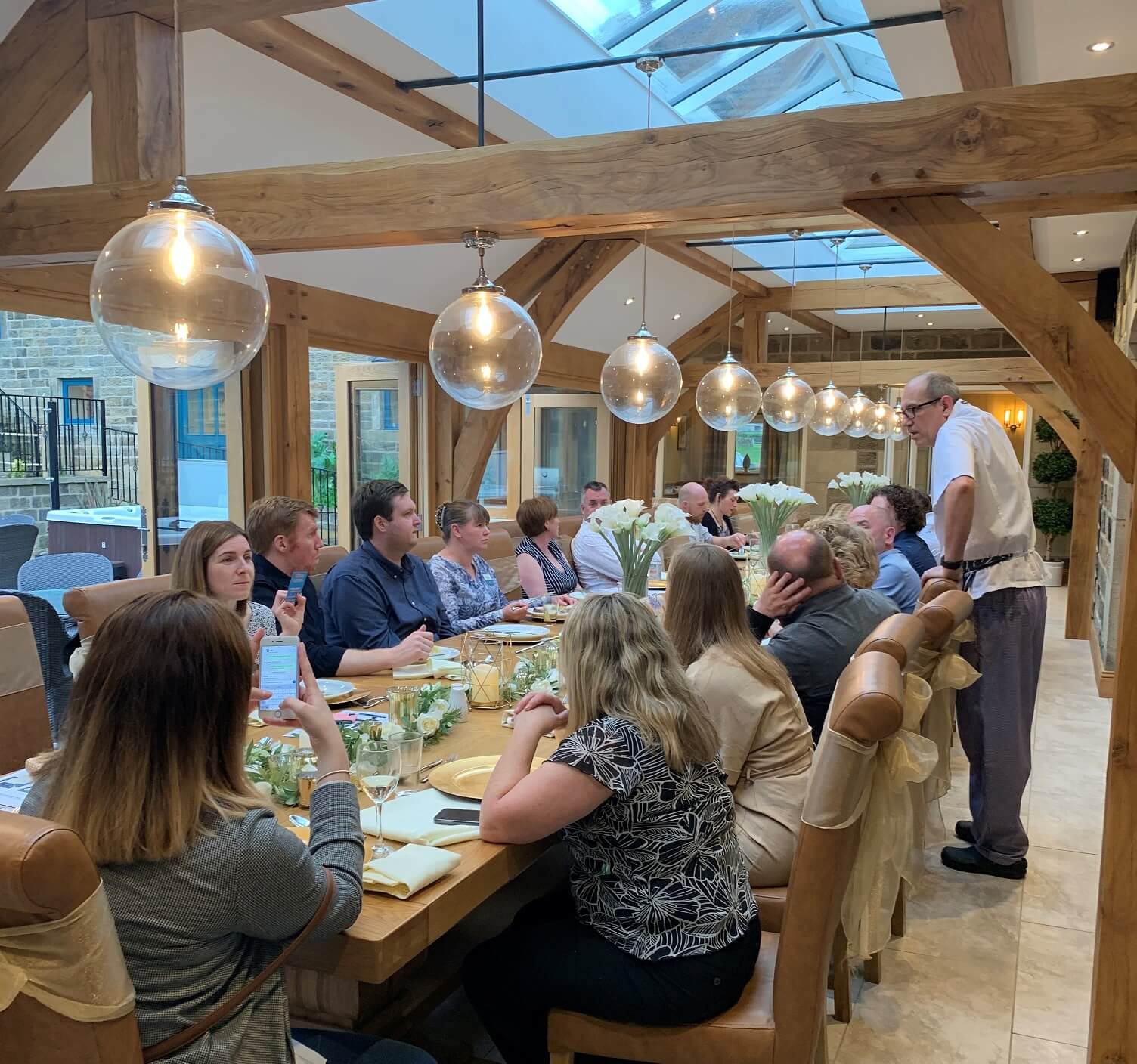 Spicer Manor opened in January 2019 after a ten-year restoration project, which has seen the house transform from a derelict farmhouse into a luxury holiday home and events venue.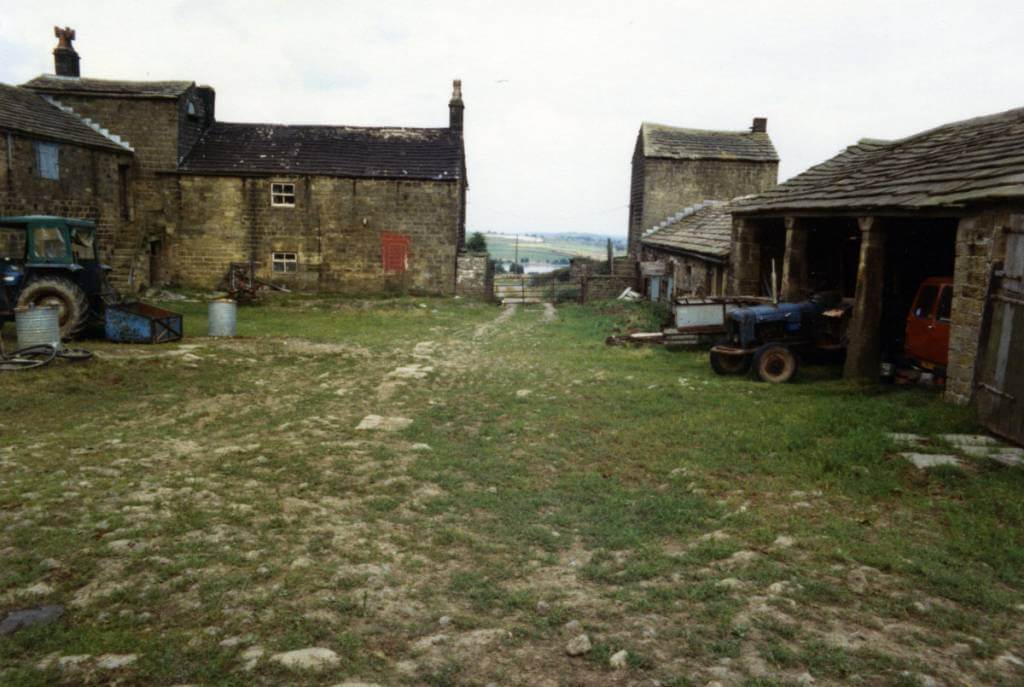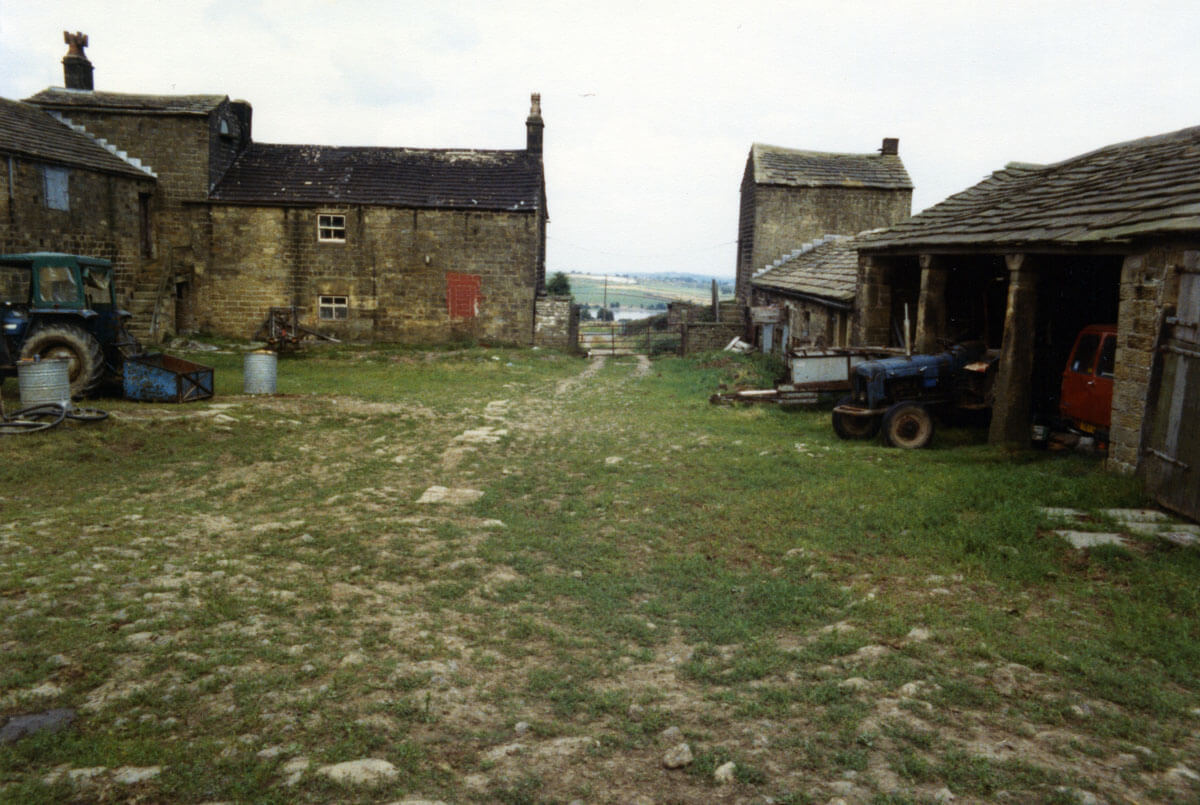 The house sleeps 34 guests in 15 charming en-suite rooms, with high-quality fittings throughout. Stunning views can be appreciated across to Ingbirchworth reservoir and the surrounding Yorkshire countryside. It also boasts a state-of-the-art cinema, games room and twin hot tubs.
Spicer Manor has a full wedding licence meaning you can spend your whole day with us. Our grand hall provides space for an intimate wedding ceremony, while the oak orangery is the perfect place to host a wedding breakfast. There is a lounge bar, and a private courtyard offers space for a barbeque or buffet reception.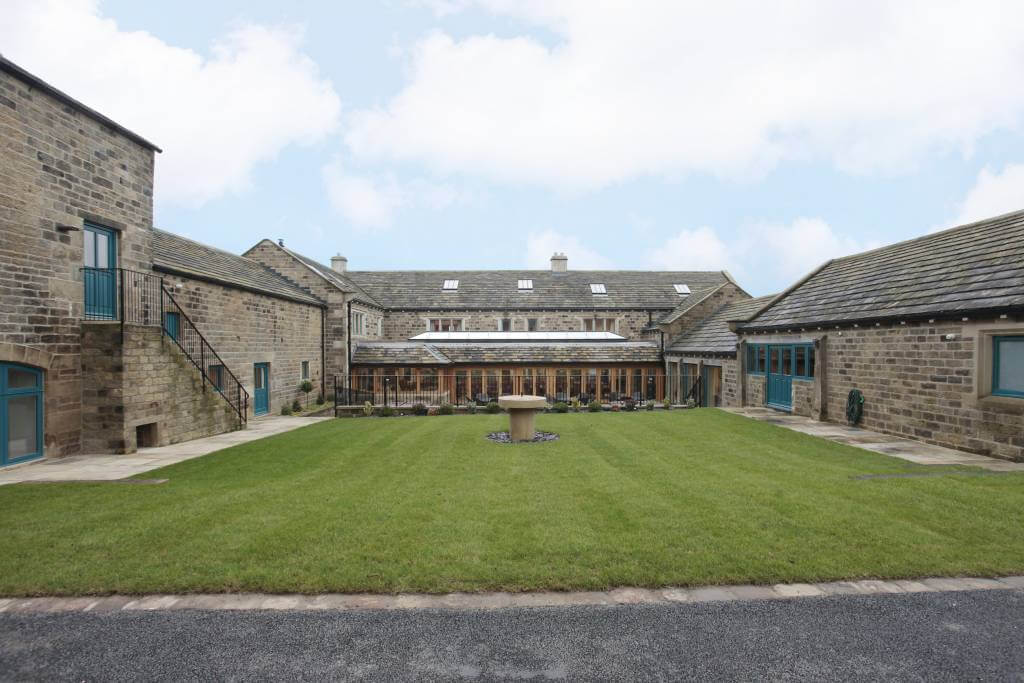 A wedding fair is planned to take place at Spicer Manor later in the year to showcase the venue to brides and grooms-to-be. Further details will be announced on our Facebook and Instagram pages in the coming months.
Spicer Manor is available for special occasions, corporate retreats and short breaks. Check availability or enquire via email at hello@spicermanor.co.uk or call 07921 138 696 to discuss your event requirements.
Top 3 cycling routes in South Yorkshire
Spicer Manor sits in stunning Yorkshire countryside close to the Peak District National Park, making it the ideal location for getting on your bike. From flat off-road routes along old railway lines to more challenging climbs, the area has something to suit everyone, from beginners to experienced riders. Here are a few routes you could try during your stay.
The Trans Pennine Trail
Running across the country from Southport to Hornsea, the Trans Pennine Trail offers 370 miles of signed cycle routes, much of which are off-road. The ten-mile section of the trail close to Spicer Manor runs from Dunford Bridge to Wortley along the route of the historic Woodhead railway line, providing a gentle gradient suitable for all riders. If that's not enough, you can then continue into Wharncliffe Woods and explore the wide range of bike trails. The Trans Pennine trail has access points from the road in Millhouse Green and Penistone.
The trail is also the ideal place to go if you want to hire bikes. Cycle Penistone offers bike hire for all ages and is located right next to the trail, meaning you can avoid using any roads if you have smaller children. You can hire for two hours, half a day or a full day, with prices starting from £6 for a child bike. If you hire four bikes, you can hire the cheapest one free, which makes it an affordable way to spend the day.
Slow tour of Yorkshire
The Trans-Pennine Trail is one of many cycle routes which form part of the 'slow tour of Yorkshire', set up to encourage less experienced cyclists to get on their bikes and ride easy off-road routes around the region.
There are 21 'stages' across Yorkshire, some of which are close to Spicer Manor and worth exploring. These include Sheffield to Rotherham following the route of the River Don, Barnsley to Old Moor nature reserve along another part of the Trans Pennine Trail, or Dewsburry to Oakenshaw alongside the Calder and Hebble Navigation Canal. All of these routes have bike hire and parking close by.
Le Tour hill climbs
If you're looking for a more challenging ride, you might want to follow part of the Tour de France route when it came through Yorkshire back in 2014. This area is full of challenging ascents, many of which were tackled by the likes of Chris Froome and Mark Cavendish.
Holme Moss was part of the tour route and is brutal. You'll climb over a thousand feet in just four miles from Holmfirth to the summit, but you're rewarded with magnificent views across the Holme Valley. This route has become one of the most popular climbs in the area thanks to the Tour de France, so you're unlikely to be alone as you tackle this ascent.
Alternatively, you could follow the undulating section of the Tour route from Midhopestones to Grenoside. Very few parts of this ten-mile route are flat, with four hill climb sections and steep descents, making the ride a challenging one for even the most experienced cyclists. When you make it to the end, you can then return to Spicer Manor using the previously mentioned (and much flatter!) Trans Pennine Trail through Wharncliffe Woods and back to Penistone.
If you go cycling during your stay at Spicer Manor, we'd love to see your photos. Tag us in on Facebook and Instagram @SpicerManor.
Top 5 family attractions in Yorkshire
Our unique position in the Yorkshire countryside means there is plenty on offer for all ages close by. Here are just some of the amazing family tourist attractions within an hour's drive of Spicer Manor.
1. Cannon Hall Farm
Cannon Hall Farm is an award-winning family attraction in Cawthorne, Barnsley, just a 15-minute drive away.
The family-run farm first opened to the public in 1989. Since then they've added an adventure playground, gift shop, farm shop, two restaurants and an indoor play area, making it one of the largest farm attractions in the UK.
The farm, which is open every day from 10.30am-5pm, includes a milking parlour with regular milking demonstrations and a rare breeds barn. Springtime is a great time to visit the farm to see new life being born – it's also home to Channel 5's popular TV series 'Springtime on the Farm'.
After visiting the farm, we recommend taking a walk in the beautiful grounds of Cannon Hall Park & Gardens, which is full of enchanting surprises, before exploring the Georgian house, which has a display of fine artworks collected by the ceramicist William De Morgan.
In the summer months, discover the Maize Maze at the nearby Garden Centre for hours of fun as you look for the clues to find your way out of the corn jungle.
2. Yorkshire Sculpture Park
Yorkshire Sculpture Park (YSP) is the leading international centre for modern and contemporary sculpture, situated in the 500-acre, 18th-century Bretton Hall estate in West Yorkshire.
The open-air gallery comprises around 80 sculptures and installations, including Barbara Hepworth's The Family of Man – a beautiful representation of figures in the landscape and one of the last major works she completed before her death.
YSP is a great place to wander around, enjoying the surrounding landscape and impressive sculptures. It's free to enter, but parking charges apply. Visit YSP by car in 25 minutes.
3. Wentworth Woodhouse
This Grade I listed stately home in the village of Wentworth in Rotherham is one of the largest houses in Europe, with one of the longest facades of any country house in England.
The house stands in 87 acres of gardens and grounds and has extensive views over former parkland, including a deer park and lakes.
Wentworth Woodhouse was built for the 1st Marquess of Rockingham from circa 1735, the work continuing over four decades, and then passed to the Fitzwilliam family. During World War Two the mansion was taken over for use by Military Intelligence.
In 2017 it was bought by the Wentworth Woodhouse Preservation Trust, who are working to renovate the building and restore it to its former glory.
Wentworth Woodhouse, its tearoom, shop and booking office are open Tuesday to Sunday 10am-4pm, with pre-booked house and garden tours operating on these days. The mansion is within a 30-minute drive of Spicer Manor and well worth a visit.
4. The Piece Hall
Following a multi-million-pound restoration project, The Piece Hall – Britain's last surviving cloth hall – features quirky independent shops, cafes and bars, a heritage visitor centre, art gallery and events programme.
It's nestled within a dramatic landscape of rolling hills and wooded valleys at the centre of the West Yorkshire town of Halifax, and a 45-minute drive from Spicer Manor.
This hidden gem of honey-coloured architecture and rich industrial heritage make it an ideal destination to visit with friends and family during your stay with us.
5. Yorkshire Wildlife Park
There's lots of fantastic family fun to be had at the UK's number one walk-through wildlife adventure, just under an hour's drive from Spicer Manor.
Yorkshire Wildlife Park in Doncaster is home to the only polar bears in England. Yes, we said polar bears! The park works closely with charities to help the conservation of endangered species in the wild and captivity and is home to nearly 400 animals and 70 different species, most of which are either endangered or threatened. Enjoy ranger talks throughout the day, visit the many cafés or take your own picnic.
For more about things to do during your stay at Spicer Manor, visit our location page.
If you visit a family attraction during your stay, we'd love to see your pictures. Tag us in on Facebook and Instagram @SpicerManor.
Things to do near Spicer Manor
There are plenty of things to do close by to keep you entertained during your stay at Spicer Manor.
Close to the nearby town of Stocksbridge is Underbank Activity Centre. If you'd like to arrange something for your group to enjoy, this is the place to come. You can try your hand at everything from kayaking, paddle boarding and archery to mountain biking and zip lining, but remember to book in advance.
From pear trees and vines to a fairyland garden, the grounds of Cannon Hall Park & Gardens are full of enchanting surprises for the young and old alike. Take a trip around Cannon Hall Farm, which recently featured in the 'Springtime on the Farm' TV series, before exploring the Georgian house, which has a display of fine artworks collected by the ceramicist William De Morgan. In the summer months, you'll find the Maize Maze close by, which offers hours of fun as you look for the clues to find the way out of the corn jungle.
For classic car enthusiasts and lovers of nostalgia, The Carding Shed is not to be missed. With its array of stunning vehicles, as well as a vintage clothes store, this place is a hidden gem tucked away inside a disused mill. There is also The Oil Can Café on site which will cater for your breakfast, lunch and afternoon tea needs. Find it just off Dunford Road, a mile outside Holmfirth.
On a hill overlooking the town, you'll find Holmfirth Vineyard. You can find out why the Holme Valley is the ideal location for producing wine on a tour of the vineyards, before enjoying a tasting session.
For the more artistic, the Yorkshire Sculpture Park is situated just 20 minutes away. The park is the leading international centre for modern and contemporary sculpture, including an 'open air' space with over 80 sculptures to discover.
If you are green fingered, you will enjoy a visit to Wentworth Garden Centre. The setting here is unique, with former Italian and Japanese gardens on display. The restaurant is a great place to go to enjoy fresh, local produce.
For the shopaholics, Meadowhall has everything you need. Situated right next to the M1 motorway in Sheffield, the centre is one of the largest in the UK, boasting over 280 stores, 45 eateries and a cinema.
For more things to do in the area, visit our location page.