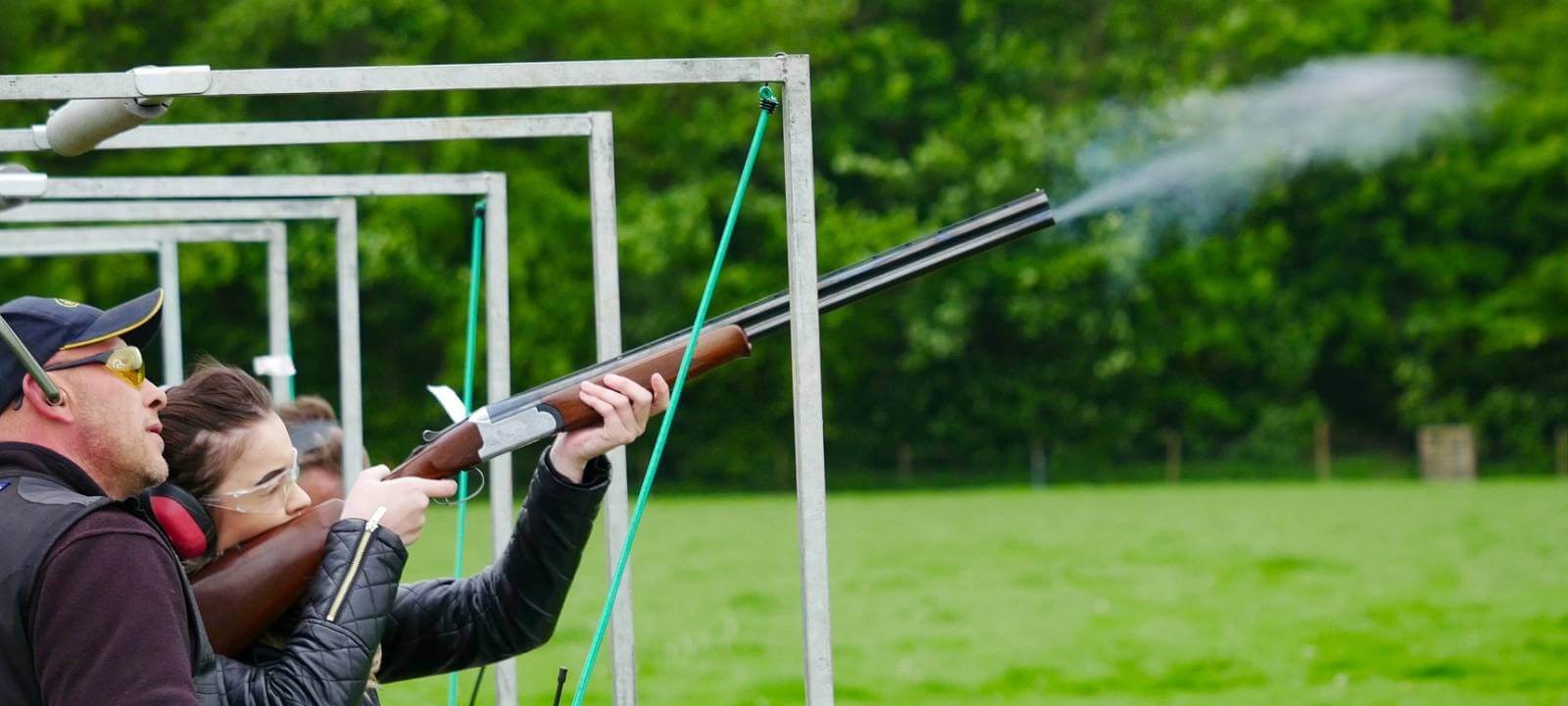 Shooting grounds to try in Yorkshire
Photo by Andy Falconer on Unsplash
Spicer Manor sits within an area of Yorkshire that is popular for shooting, making it the ideal base for a shooting holiday. Here's a rundown of the best shooting clubs in the area.
The Boar
If clay shooting is your thing, you're only 20 minutes away from the Boar Clay Shooting Ground, located between Woodhead and Torside Reservoirs just off the Woodhead Pass. This place has a fantastic reputation for excellent clay pigeon shooting in idyllic surroundings.
The Boar offers a variety of clay target shooting, including English Sporting, English Skeet, Down The Line, Compak Sporting and Flush for the Game enthusiast. They also have rifle and air gun ranges. Individual, group and corporate bookings are welcome, and you don't need to have a shooting licence to take part. For newcomers to shooting, The Boar can supply guns, safety glasses and hearing protection.
Sycamore Shooting Ground
Just eight miles from Spicer Manor, you'll find Sycamore Shooting Grounds. The site is situated above High Bradfield, on the edge of the Peak District, and overlooks Sheffield, making it a stunning location.
The site offers 50-bird Sporting Down The Line and Double Rise disciplines and has just introduced Practical Shotgun Shooting.
You can shoot at Sycamore every Sunday and when the clocks change, they also offer Tuesday evening shooting. Cartridges are available on site, but you will need to bring your own guns. Corporate events and stag and hen parties are welcome.
Hathersage and Edale
Peak District Clay Pigeon Shooting run shoots on Abney Moor, close to Hathersage, and Edale in the Hope Valley, about 40 minutes' drive from Spicer Manor. These locations in the White Peak offer magnificent scenery as a backdrop to the shoot. A wide variety of courses are available, with everything from a beginner shoot to one-to-one coaching and a full simulated game day for up to eight people. Corporate events and stag and hen dos are also catered for.
Highfield Shoot
For live shooting, Highfield offers a small shoot which welcomes all ages. The estate is located close to Ilkley in West Yorkshire, around 75 minutes' drive from Spicer Manor. You can bring your own guns, or a team can take nine guns provided for a whole day. Game includes snipe, woodcock, partridge, pheasant, pigeon and duck. Shooting always takes place on Saturdays and runs from 9am to 3pm, with two breaks. Dates are available in December 2019 and January 2020.
Upperwood Estate
Spicer Manor sits in grouse shooting heartlands, meaning there are options for you if you stay with us between August and December during official grouse shooting season. Upperwood Estate offer a grouse shoot on Saddleworth Moor, which is about 30 minutes' drive away. There are also reservoirs and ponds that hold ducks so duck shooting and flighting can be arranged. Dates of shoots are generally released closer to the start of the season, but they do tend to get booked up quickly. You must have a team of eight, and the cost is £1500 per gun.
Top 3 National Trust sites to visit in Yorkshire
Image – Barnsley Council
With colourful displays of flowers and warmer days, summer is the perfect time for you to explore some of the National Trust's beautiful gardens and landscapes.
Synonymous with a great family day out, the National Trust offers plenty of sites across Yorkshire to enjoy the great outdoors – with many of them within easy reach of Spicer Manor.
Wentworth Castle Gardens, just a 20-minute drive from Spicer Manor, date back to 1708. The gardens were closed to the public in 2017, but thanks to a new partnership between the National Trust, Barnsley Council and The Northern College, they re-opened to visitors in June 2019.
With 63 acres of formal gardens and 500 acres of wider parkland, there's plenty for you to see and do. The gardens feature some of the earliest monuments and follies in the country, including the ancient ruins of Stainborough Castle and an ornate Victorian conservatory, which was repaired in 2013. Dogs are welcome at Wentworth Castle Gardens and food and drink is available on site at the café in the Long Barn.
Nostell's parkland and gardens, around a 40-minute drive from the house, stretch over 300 acres, taking in wildflower meadows, lakes and woodlands. Situated near Wakefield, you can enjoy the colourful kitchen garden, take a leisurely stroll in the menagerie garden, and there's an adventure play area to keep the kids entertained too.
If hiking is more your thing, then a visit to the Marsden Moor Estate is a must. Talk a walk on the wild side and enjoy the rugged moorland landscape. The estate is within a 35-minute drive of Spicer Manor and offers the opportunity to get away from it all.
Marsden Moor is also the perfect place to go bird watching as it's a protected conservation site due to the ground nesting bird population and blanket bog habitat.
With membership of the National Trust you'll gain free entry into over 500 gardens, free parking, a handbook full of ideas to help you plan a visit, the National Trust magazine sent to you three times a year, and regular newsletters sent straight to your inbox.
But you don't need to be a member to enjoy these beautiful landscapes. If you visit a National Trust site during your stay, we'd love to see your photos. Tag us in on Facebook or Instagram @SpicerManor or send them to us at hello@spicermanor.co.uk
Top 5 family attractions in Yorkshire
Our unique position in the Yorkshire countryside means there is plenty on offer for all ages close by. Here are just some of the amazing family tourist attractions within an hour's drive of Spicer Manor.
1. Cannon Hall Farm
Cannon Hall Farm is an award-winning family attraction in Cawthorne, Barnsley, just a 15-minute drive away.
The family-run farm first opened to the public in 1989. Since then they've added an adventure playground, gift shop, farm shop, two restaurants and an indoor play area, making it one of the largest farm attractions in the UK.
The farm, which is open every day from 10.30am-5pm, includes a milking parlour with regular milking demonstrations and a rare breeds barn. Springtime is a great time to visit the farm to see new life being born – it's also home to Channel 5's popular TV series 'Springtime on the Farm'.
After visiting the farm, we recommend taking a walk in the beautiful grounds of Cannon Hall Park & Gardens, which is full of enchanting surprises, before exploring the Georgian house, which has a display of fine artworks collected by the ceramicist William De Morgan.
In the summer months, discover the Maize Maze at the nearby Garden Centre for hours of fun as you look for the clues to find your way out of the corn jungle.
2. Yorkshire Sculpture Park
Yorkshire Sculpture Park (YSP) is the leading international centre for modern and contemporary sculpture, situated in the 500-acre, 18th-century Bretton Hall estate in West Yorkshire.
The open-air gallery comprises around 80 sculptures and installations, including Barbara Hepworth's The Family of Man – a beautiful representation of figures in the landscape and one of the last major works she completed before her death.
YSP is a great place to wander around, enjoying the surrounding landscape and impressive sculptures. It's free to enter, but parking charges apply. Visit YSP by car in 25 minutes.
3. Wentworth Woodhouse
This Grade I listed stately home in the village of Wentworth in Rotherham is one of the largest houses in Europe, with one of the longest facades of any country house in England.
The house stands in 87 acres of gardens and grounds and has extensive views over former parkland, including a deer park and lakes.
Wentworth Woodhouse was built for the 1st Marquess of Rockingham from circa 1735, the work continuing over four decades, and then passed to the Fitzwilliam family. During World War Two the mansion was taken over for use by Military Intelligence.
In 2017 it was bought by the Wentworth Woodhouse Preservation Trust, who are working to renovate the building and restore it to its former glory.
Wentworth Woodhouse, its tearoom, shop and booking office are open Tuesday to Sunday 10am-4pm, with pre-booked house and garden tours operating on these days. The mansion is within a 30-minute drive of Spicer Manor and well worth a visit.
4. The Piece Hall
Following a multi-million-pound restoration project, The Piece Hall – Britain's last surviving cloth hall – features quirky independent shops, cafes and bars, a heritage visitor centre, art gallery and events programme.
It's nestled within a dramatic landscape of rolling hills and wooded valleys at the centre of the West Yorkshire town of Halifax, and a 45-minute drive from Spicer Manor.
This hidden gem of honey-coloured architecture and rich industrial heritage make it an ideal destination to visit with friends and family during your stay with us.
5. Yorkshire Wildlife Park
There's lots of fantastic family fun to be had at the UK's number one walk-through wildlife adventure, just under an hour's drive from Spicer Manor.
Yorkshire Wildlife Park in Doncaster is home to the only polar bears in England. Yes, we said polar bears! The park works closely with charities to help the conservation of endangered species in the wild and captivity and is home to nearly 400 animals and 70 different species, most of which are either endangered or threatened. Enjoy ranger talks throughout the day, visit the many cafés or take your own picnic.
For more about things to do during your stay at Spicer Manor, visit our location page.
If you visit a family attraction during your stay, we'd love to see your pictures. Tag us in on Facebook and Instagram @SpicerManor.
Things to do near Spicer Manor
There are plenty of things to do close by to keep you entertained during your stay at Spicer Manor.
Close to the nearby town of Stocksbridge is Underbank Activity Centre. If you'd like to arrange something for your group to enjoy, this is the place to come. You can try your hand at everything from kayaking, paddle boarding and archery to mountain biking and zip lining, but remember to book in advance.
From pear trees and vines to a fairyland garden, the grounds of Cannon Hall Park & Gardens are full of enchanting surprises for the young and old alike. Take a trip around Cannon Hall Farm, which recently featured in the 'Springtime on the Farm' TV series, before exploring the Georgian house, which has a display of fine artworks collected by the ceramicist William De Morgan. In the summer months, you'll find the Maize Maze close by, which offers hours of fun as you look for the clues to find the way out of the corn jungle.
For classic car enthusiasts and lovers of nostalgia, The Carding Shed is not to be missed. With its array of stunning vehicles, as well as a vintage clothes store, this place is a hidden gem tucked away inside a disused mill. There is also The Oil Can Café on site which will cater for your breakfast, lunch and afternoon tea needs. Find it just off Dunford Road, a mile outside Holmfirth.
On a hill overlooking the town, you'll find Holmfirth Vineyard. You can find out why the Holme Valley is the ideal location for producing wine on a tour of the vineyards, before enjoying a tasting session.
For the more artistic, the Yorkshire Sculpture Park is situated just 20 minutes away. The park is the leading international centre for modern and contemporary sculpture, including an 'open air' space with over 80 sculptures to discover.
If you are green fingered, you will enjoy a visit to Wentworth Garden Centre. The setting here is unique, with former Italian and Japanese gardens on display. The restaurant is a great place to go to enjoy fresh, local produce.
For the shopaholics, Meadowhall has everything you need. Situated right next to the M1 motorway in Sheffield, the centre is one of the largest in the UK, boasting over 280 stores, 45 eateries and a cinema.
For more things to do in the area, visit our location page.
Try these walking routes in South Yorkshire
With beautiful Yorkshire countryside the minute you walk out of the door, Spicer Manor is a walker's paradise. There are a wide range of routes you can explore directly from the house, as well as more challenging hikes slightly further afield on the open moors. Here are four walks you could try during your stay.
Reservoir walks
Ingbirchworth Reservoir, which can be seen from the house, and the nearby Scout Dike and Royd Moor reservoirs provide a walking route which can be completed in half a day. It follows part of the Barnsley Boundary Walk, which is signed, so it's easy to follow. There's a mix of road walking, surfaced paths and open fields, so it's worth having substantial footwear if you're thinking of doing this walk.
Penistone Boundary Walk
If you're looking for magnificent views, this 16-mile walk is not to be missed. You can pick up the route at Royd Moor viewpoint, a mile down Spicer House Lane. The walk takes in Hartcliff Moor, with panoramic views across the Peak District, and Cubley Hall, where there is a cafe to refresh you, before heading up to the eastern side of the town. You'll skirt round the villages of Silkstone and Hoylandswaine before passing Scout Dike and Royd Moor reservoirs on your way back to Spicer Manor. Allow a day for this walk, and make sure you have sturdy walking boots as the terrain will be muddy even in the summer months.
Pennine Way
Being close to the Peak District means you could sample part of the legendary Pennine Way. The closest access point is at Crowden reservoir, 12 miles away from Spicer Manor off the Woodhead Pass. You can then enjoy a spectacular moorland walk, whether it's northwards towards Marsden or south towards the Pennine Way's start point in Edale. But be warned – this section of the route is very bleak, with no facilities in either direction for a further distance than you could walk in a day, so be sure to take supplies with you.
Langsett Circular Walk
This short circular route surrounds Langsett reservoir, but the two parts of it are very different. Start at Langsett car park, before walking down the northern side of the reservoir on an easy flat path. Once you reach the end of the surfaced path, you head up onto rugged open moorland, which offers fantastic views, before descending back towards the village of Upper Midhope. From there, walk back down Midhope Cliff Lane towards the reservoir wall. Allow up to 90 minutes for this walk.
If you go walking during your stay at Spicer Manor, we'd love to see your photos. Tag us in on Facebook and Instagram @SpicerManor.
Why you should visit Holmfirth
Spicer Manor is set amongst beautiful scenery, with some fascinating villages and towns on its doorstep.
Less than seven miles away lies the town of Holmfirth. Famous as the backdrop to the long-running TV series 'Last of the Summer Wine', Holmfirth is a great destination for a trip out. As well as cobbled streets and locations made famous by the TV show (Sid's Café and Nora Batty's steps for example), there are countless cafes and gift shops, intriguing back alleys, a second-hand bookshop and a thriving music venue, the Picturedrome, as well as plenty of restaurants. 
There are also practical facilities like supermarkets and banks, a brilliant greengrocer, butchers and a pet shop. So, it's a great place to while away a few hours. But it really comes to life on several weekends a year when one of the festivals take place.
In May it is the annual Festival of Folk, which sees venues throughout the town vibrating to the sound of local musicians, as well as their more famous counterparts. Many of the gigs are ticketed, but many of them are free and it's great fun to hop from one pub to another soaking up the atmosphere. 
There are workshops for all ages; from Samba to singing, and street performances of everything from drumming to ukulele jamborees, as well as ceilidhs and school concerts. 
On the Saturday afternoon there's the main parade through the town, with Morris dancers lining up behind pipers and clog dancers. The sound and the colour as the parade winds its way through the town to the park on the hillside is something that can only bring a smile to your face. It really is a delight to see.
If folk music isn't your thing, you might like the arts events that pop up in the town and further afield. There's the arts festival which runs over a weekend in June and sees exhibitions and installations in the town and on the surrounding hills (usually including an inspiring art walk where you can spot art in the fields and trees), and the art market, which is a charity fundraiser and a chance to admire and buy art by local artists. It usually runs in early July.
In September the good folk of Holmfirth turn their thoughts to food! The Food and Drink Festival is an assault on the senses, with stalls selling everything from sizzling sausages and hot curries to tasty crepes, sticky fudge and local cider. The atmosphere – and smells – are fantastic. It is one festival not to miss.
And there are more. In addition to these events, there is a music festival in October, beer festivals, a film festival and an annual duck race. Add to that the obvious, like the Christmas lights switch on, and you can see why some locals think of it as the festival town. 
For more things to do in the area, visit our location place.